Chairman Carter's Collection of Pithy Quotes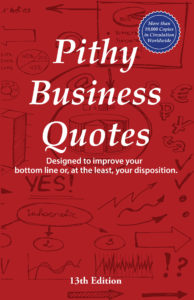 Pithy Quotes
Own your copy of Chairman Bud Carter's Pithy quotes now available in paper back.
Business quotes designed to improve your bottom line, or, at the least, your disposition.
Paperback:
For bulk or custom orders, please e-mail pod@booklogix.com.
16,000+ Copies

First published in 1990, more than 16,000 copies of Chairman Carter's Pithy Quotes are now in circulation literally around the world.

A Great Gift

How often can you give the gift of inspiration? Order Pithy Quotes now for someone you know and reap their thanks all year long.

Make Yourself Known

Words of wisdom know no bounds of fame or wealth. We'd love to add your salient snippet. Click here and share your pearls of pithiness.